Collaborators & References
Meet our non-profit collaborator:  WCAT Catholic Radio
 PLEASE HELP FUND 6 PRIESTS
"WCAT not-for-profit Catholic Radio" (together with Jesus-Centered Institute, LLC's and its publishing division, Dialog International Press, LLC)  is in a joint venture to assist training priests who are licensed mental health therapists. Their collaboration will provide a Fellowship Certification Training Program in Marital/Couples Psychotherapy  called Jesus-Centered Schema Therapy®  (Basic & Advanced, Individual & Marital). 
Click here to learn more
The Spirit is a moving…!
WCAT Radio & Jesus-Centered Institute, LLC –Dialog International Press, LLC
Collaboration!
"WCAT not-for-profit Catholic Radio" (together with Jesus-Centered Institute, LLC's and its publishing division, Dialog International Press, LLC)  is in a joint venture to assist training priests who are licensed mental health therapists. Their collaboration will provide a Fellowship Certification Training Program in Marital/Couples Psychotherapy  called Jesus-Centered Schema Therapy®  (Basic & Advanced, Individual & Marital).
PLEASE HELP FUND 6 PRIESTS
Post-Licensure Fellowship Training Program in Marital Psychotherapy Presents:
JESUS-CENTERED SCHEMA THERAPY® Post-licensure Certification-Track Training Program[1]
Have you been wanting to help marriages as a "ministry", but not know where to begin?  We have an opportunity for you to be involved in critically needed preparatory studies for 6 ordained and licensed clergy to become experts in a Christian application of Schema Therapy and to train new therapists.
Our clergy therapists need, like other dedicated therapists, topnotch psychotherapy interventions to be able to minister effectively to the marriages that come to them with struggle. Often in graduate school training the student needs to cover and absorb a broad overview of theories, research, and skills to provide a solid foundation.  It often takes years of clinical practice to pull these pieces together effectively.
Most clinicians sign up for specialized continuing education after their degree.  In fact, post- licensing fellowships are common.  Ongoing continuing education is a necessary part of maintaining a license.
The problem is that the specialized therapies that require a few years of committed study, experiential exercises with colleagues, and individualized educational consultation with cases on the model, are quite expensive. Whether it is a Gottman method Couples Therapy, Emotionally-Focused Therapy (EFT), EMDR (Eye Movement Desensitization & Reprocessing), Trauma Specialist Certificate Program, Imago Therapy, Somatic Experiencing (SE), or others, pursuit of these is at significant cost.
WCAT Radio is endeavoring to provide training free of cost (outside of room and board) for on-site training to a limited number of clergy.  The first group enrolled will not exceed 6 students.  We have contracted licensed psychologist, Dr. Chiara Simeone-DiFrancesco and her Jesus-Centered Schema Therapy® International Training Institute to be the trainer & director of the program.
The program will train in Schema Therapy, and will specifically be geared to the full course of Basic, Advanced and Trainer status.  The courses will encompass and extend beyond all of the components of the secular certification programs that are found through the International Society of Schema Therapy's basic requirements for certification at these levels.
Additional components refine this evidenced-based psychotherapy for a Christian /Catholic / Ecumenical target population.  This includes basing all teaching on the foundation of Christ, being built and rooted in Him.  (Col. 2:7).  It is  also known as a "Christian anthropology" in popular terms.
For those who complete the program and pass the exams with the required score (both written and video-tape submissions) our affiliate, Jesus-Centered Institute, LLC will provide certification of Jesus-Centered Schema Therapy for Individuals and Marriage.
WCAT nonprofit has  chosen Schema Therapy as our modality to heal and strengthen marriages for a particular reason.  Our Clinical Director, Dr. Simeone-DiFrancesco, has achieved international Advanced and Trainer certifications in the discipline of Schema Therapy, and has had practiced psychology for thirty years.  She believes it to be one of the finest therapies out there that  incorporates state of the art and proven  evidenced-based tools.
She comes to this position after significant training and continuing education in many psychotherapy interventions and systems. (Gottman Level 2 training completion; Externship in Emotion-Focused Therapy; certification in Medical Analytical Hypnotherapy; Gottman Couples Therapy Trauma & Affairs training; EMDR training; Cognitive-Behavioral training; psychodynamic course work.  This all—as well as 30 years of assorted continuing education training on a yearly basis).
While no therapy can guarantee results, in Schema Therapy there is by design a collaborative relationship. Under guidance of the therapist, treatment steps are orchestrated and aimed to fill in past gaps and create new and healing experiences and shifts in the manner of coping.  Schema Therapy takes elements of supported evidenced based therapies and integrates them into a robust conceptualization and set of strategic interventions, which are  individually tailored to each couple. Schema Therapy is not a mere eclectic hodgepodge.  It has a unique conceptual base that identifies the specific clash components and cycles (modes, schemas and clinical symptoms) that the individuals and the marriage are trapped in.  It then  elucidates their origins and what is needed to heal them.
Practitioners who learn Schema Therapy are generally more seasoned.  They are able to perceive its benefits and contributions from experiences in their efforts with individuals and couples having complex issues. In Dr. Simeone-DiFrancesco's expert opinion, it is a robust therapy designed to work effectively even with difficult couples have personality disordered rough edges.  It is a cutting-edge therapy that incorporates some of the best tools of Gottman, Emotion-Focused, and Positive Psychology/Virtue-based therapies available under a consistent case conceptualization. It  recognizes understandings  taken from brain science on how we learn, react, heal from traumas, calm ourselves and each other, and very importantly, attach.
Jesus-Centered Schema Therapy is not a newly invented therapy.  It is classic Schema Therapy that is uniquely grounded and rooted in a Christian anthropology of human nature. It is virtue-commitment centered  and prioritizes solid Christ-modeling. (Rather than inconsistent humanist self-centered objectives.)   It promotes the seeking of truth, respect and the fulfillment of Needs of all equally, and as such, is a true minority inclusive psychotherapy.  Clients  are invited to learn to incorporate a Gospel-guided road map that extends and connects them to Christ Jesus Himself, to continue long after the intensive phase of therapy-by-necessity ends.
This is what we want: healthy and independently functioning marriages of their own that in turn can subsequently mentor new marriages and minister in the parish or church communities.  Healthy models of marriage sadly are a rare commodity!
That is why with  Jesus-Centered Schema Therapy we are endeavoring to do something using the talent base of  already-formed Christian clergy therapists, who are committed to healing marriages full time.  This allows them to focus on these skills and develop them, to engage in further research studies, and to train the next set of Jesus-Centered Schema Therapists®.
For more information, please read available materials on the Jesus-Centered Schema Therapy® International Training Center.
When funds/donations have been received that allow for the full development of materials and staffing, we will issue a brochure and application packet.  Application will be competitive.  Preference will be given for those clergy who have demonstrated prior interest or experience in Schema Therapy and wish to serve full-time in teaching, researching or implementing Schema Therapy for marriage.  All applicants must be independently licensed to practice mental health.
More information about WCAT Radio: We are a St. Louis-based, 501(c)(3) Not-for-Profit Internet radio station (EIN: 83-4447144) developed as an en-air branch of En Route Books & Media for the purpose of promoting the Catholic spiritual journey through quality Catholic programming.
Do you need personal mentoring, spiritual direction & pastoral guidance?  Get it direct from the source: limited pastoral counseling available through Romuald Simeone. Contact via email

Need more free resources to pass on to your friends & family members who are not "in love" with Jesus, who don't know what they are missing, or who are turned off by the "human church":

Check out the brief topics in our list of 38:  this is God speaking, as well as our other resources.

Looking for more sermon material, teaching content for seminary formators, or material for days of recollection, retreats, or Bible college courses on Scripture? Check out our books on

Bible, Love Letters From Your Father, Books of John, (Lectio Divina) with accompanying videos, or purchase the set of both.  To order the set of all three volumes plus a dvd of all of the videos, order here.
For donors to the formation of the 6 therapist priests in the ministry of helping marriage, with your donation of $500 or more, you will receive all three volumes and the set of accompanying videos on Vimeo to own.
ENROUTE Books and Media, LLC, 
is a small Catholic publishing company owned by Dr. Sebastian Mahfood, OP, and operated out of its offices in St. Louis, MO.
Our mission is to promote the Catholic spiritual journey. Given the large number of projects on which we are currently working, we will accept new, unsolicited book queries or submissions beginning June 30, 2020. Queries or submissions received before that date will be held for review until after that date. We encourage all Catholic authors to pursue publication of their materials through any of the other Catholic publishing houses in the meantime.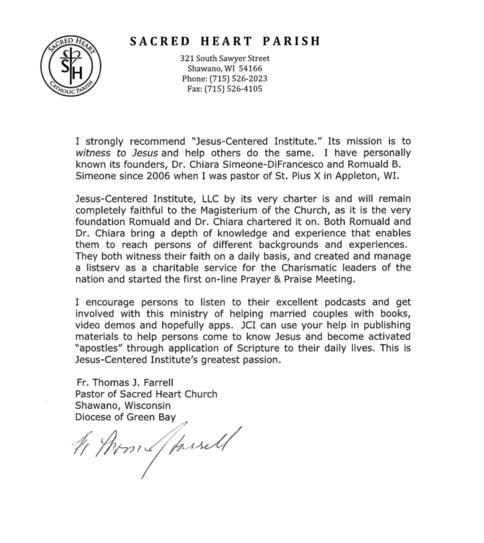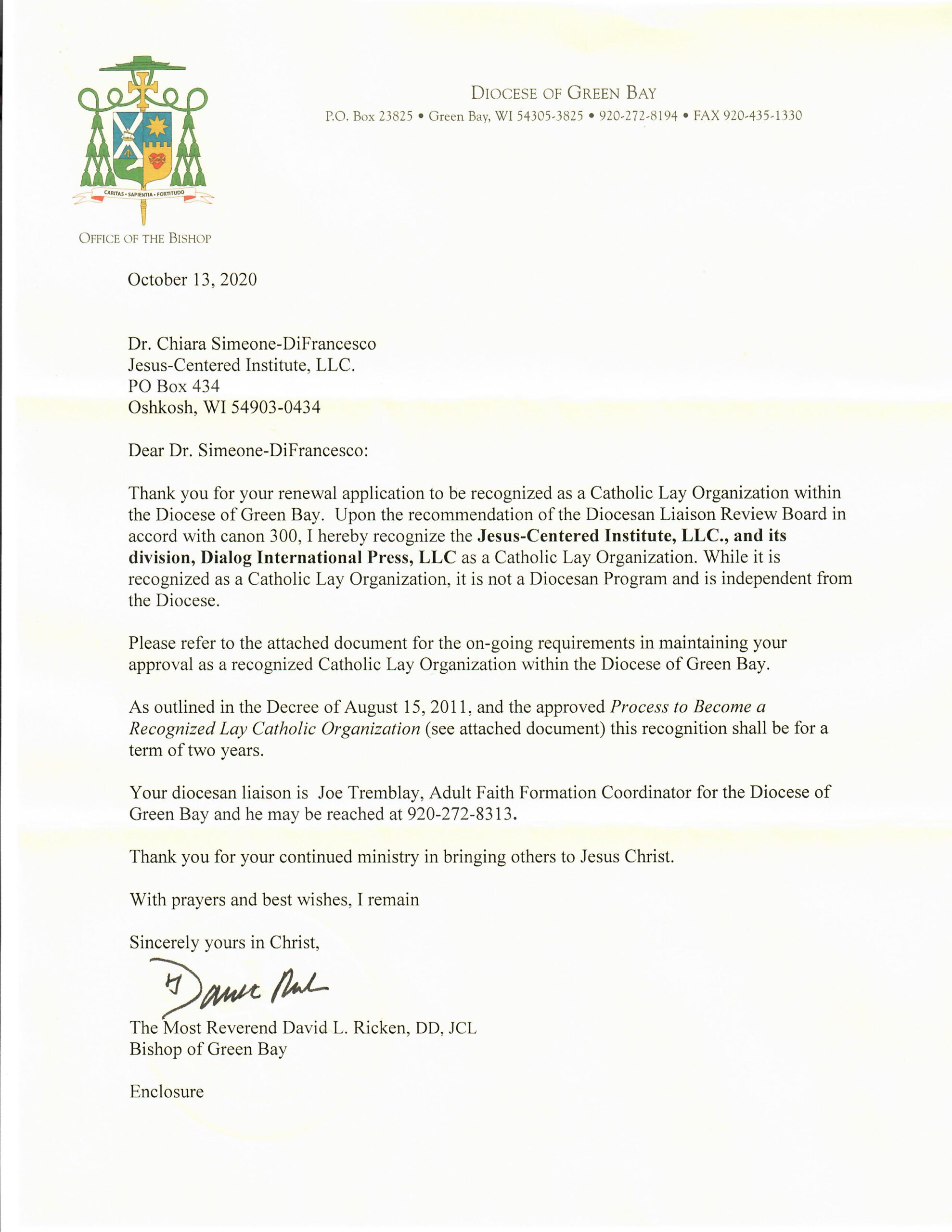 I

am pleased to highly recommend Dr. Chiara Simeone-DiFrancesco and Romuald B. Simeone. As a married couple and having worked as a psychologist for the past 28 years, Dr. Chiara brings a Jesus centered approach to their writing and teaching materials that  help married couples. Romuald brings a theological perspective to their books and his ability to explain and apply the scriptures. Dr. Chiara is internationally respected in her work and is published and so is Romuald.
Fr. Norman Supancheck
​Bishop Allemany High School, Mission Hills,
California
Archdiocese of Los Angeles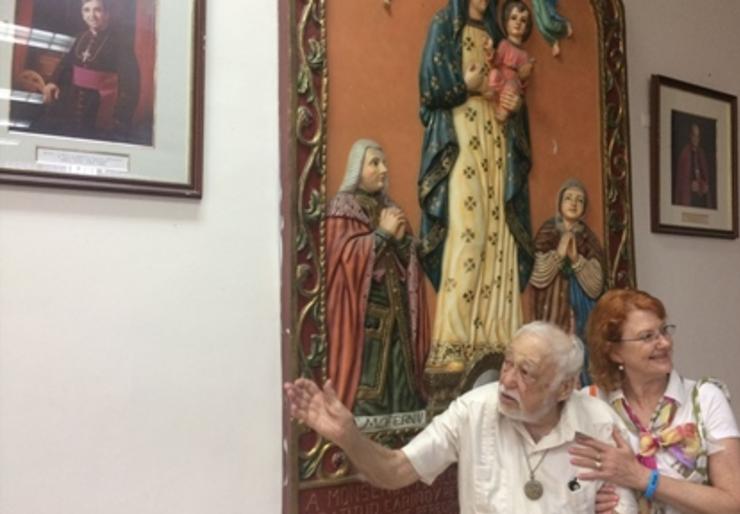 Romy & Chiara, Pilgrimage to Archdiocese of Panama to honor their mentor, former Archbishop Clavel, and present Romuald's books to Archbishop José Domingo Ulloa Mendieta, O.S.A.